Pregnancy Chiropractic at Bayside Chiropractic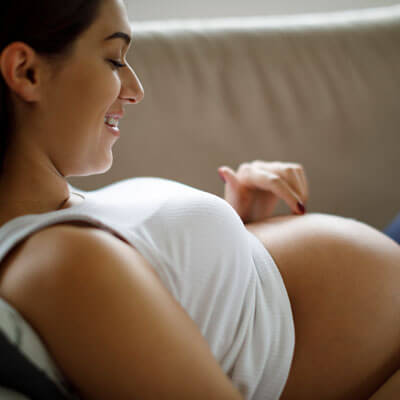 Everyone in the family wants Mom to have a happy, healthy pregnancy. Taking care of her nervous system ensures a less stressful pregnancy and easier labor and delivery. And that's good for Mom and Baby too!
How Can Pregnancy Chiropractic Help Me?
Safe and effective chiropractic care addresses Mom's ever-changing needs during pregnancy. The additional strain on her joints and muscles, balance issues, and pressure from an enlarged abdomen are substantial. Pain and discomfort, especially in the third trimester, are common.
Chiropractic adjustment corrects nerve interference to relieve back, pelvic, and rib discomfort, hip/sciatica pain, round ligament pulling and more, as her body prepares for birth.
NEW PATIENTS »

Benefits of Adjustments
Benefits include helping Mom stay healthy during pregnancy, plus
Easing morning sickness
Relieving back, neck and joint pain
Helping Baby move from breech position
A shorter labor and delivery
Faster postpartum recovery
Handling With Care
Our doctors are trained and certified in the Webster Technique, designed to provide expecting mothers with gentle care. Focused on balancing the pelvis and relaxing the muscles and ligaments associated with her changing body, the special techniques keep Mom and Baby safe and comfortable during each stage of pregnancy.
We also offer specialty tables and equipment for our services and prenatal pillows to help keep Mom comfortable during treatment and allow her to lie face-down or on her side throughout the pregnancy.
Patients are scheduled for adjustment, based on Mom's needs. When you reach 32 weeks, we check you weekly to ensure your body is in alignment.
After delivery, chiropractic is important because of the birth trauma experienced. Labor causes changes in the pelvis and abdominal muscles, leading to instability. Pregnancy hormones remain active in the body, allowing for extra mobility in the joints.
Answering Your Questions
If you're interested in learning more, please contact us today—we can't wait to help you experience the best possible pregnancy. Contact us today at (251) 626-8242!
CONTACT US »
---
Pregnancy Chiropractic Spanish Fort AL | (251) 626-8242